We Know That "He Gets Us"–But Evangelical Church Leaders Still Don't Get It
If they want to answer the first question posed on the "He Gets Us" website, they can start by just looking in the mirror.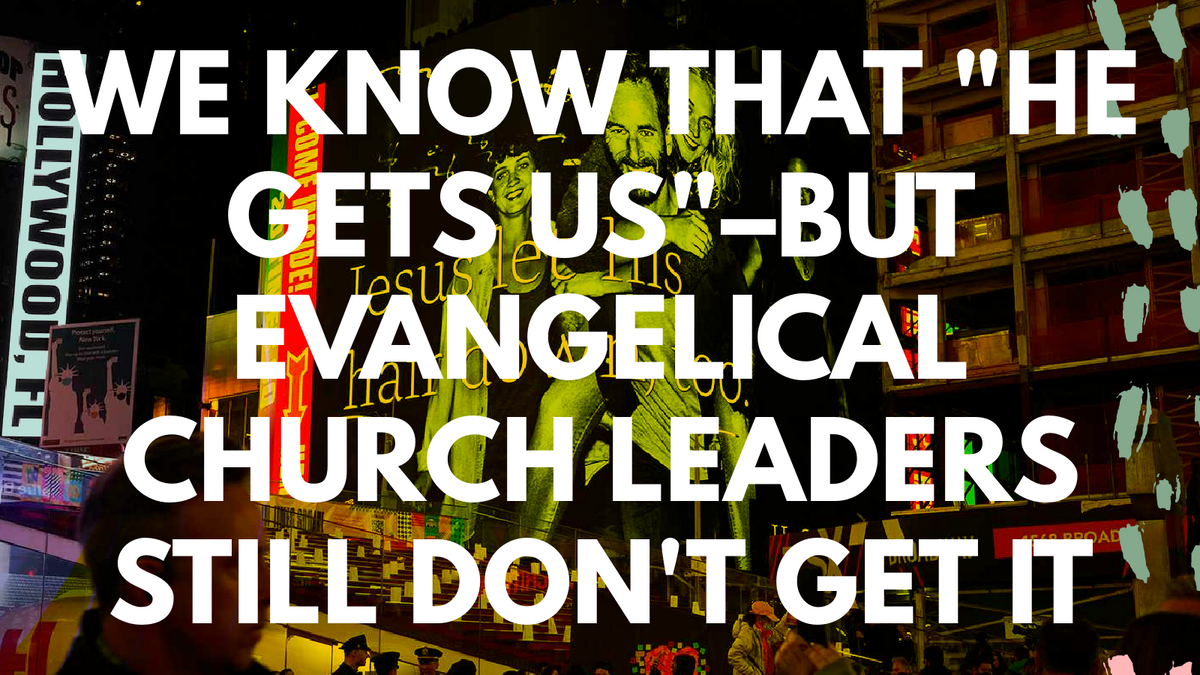 "How did the story of a man who taught and practiced unconditional love become associated with hatred and oppression for so many people?"
This is the beginning of an article from the He Gets Us website describing the so-called agenda of the mysterious ad campaign. In case you've somehow missed the media blitz, a group of wealthy evangelical Christians–including David Green, the founder of Hobby Lobby–have funded a 1 billion dollar campaign to "rebrand Jesus."
The website describes its campaign as "a movement to reintroduce people to the Jesus of the Bible and his confounding love and forgiveness." As a progressive, post-evangelical Christian, I can agree with that. And clearly, this website and ad campaign is targeted toward people on the margins of white evangelical Christianity.
But back to that first question. We know the answer because the through lines have been pretty thoroughly traced. There's lots of hand wringing from conservative church leaders over declining church attendance. If they want to know the answer, they can start with Jemar Tisby's The Color of Comprise if you need a primer on how the religious right came to choose abortion as their rallying issue once overt racism wasn't socially acceptable anymore. One Nation Under God: How Corporate America Invented Christian America by Kevin M Kruse connects the dots of how capitalism and Christianity became tied together.
The He Gets Us website is sprinkled with phrases like "Jesus invited everyone to sit at his table" and "Jesus didn't feel welcomed by religious people either." I believe these things, and I love the idea of people coming to experience Jesus for who he really is, but I don't think they're going to find that Jesus within the walls of fundamentalist Christianity.
Before finding out that the campaign was funded by wealthy evangelicals, it felt like a ploy. Now I know that it is.
David Green is a generous philanthropist–to organizations that pass his doctrinal vetting process (source), like Jerry Fallwell's Liberty University. The Christian donor-advised fund called The Signatry is also a major source of funds for this campaign. Their 2020 990 form shows that they donated in in 2019 to Alliance Defending Freedom, an organization committed to "protecting religious freedom, free speech, the sanctity of life, parental rights, and God's design for marriage and family" and Al Hayat Ministries, an organization that seeks to "respectfully yet fearlessly unveil the deception of Islam."
So, yes "he gets us." But the evangelical church still doesn't get it. If they want to answer the first question posed on the "He Gets Us" website, they can start by just looking in the mirror.